I've been hit. I write this post from my couch, where I have set up residency during the nastiest flu bug I've had in a while. It all started on Sunday–luckily, the day AFTER my book signing at Caribou on Saturday. I rested all day Sunday and Monday, and by Monday evening I had a ravenous appetite. After not eating food for two days, I whipped up a batch of my all-time favorite comfort soups: Italian Wedding. I had a good-sized bowl, and thought myself cured.
Ha.
After being at work approximately 1.5 hours on Tuesday, I had to call it quits. While my stomach is undeniably better, the dizziness, headaches, and uhhh gastronomical distress, that's set in has really knocked me off my feet. So, here I lay, with a bottle of water and ginger ale.
But all is not lost. I have a wonderful boss who came in to give me the day to rest, and I'm confident that I will be well before the Author Festival at Beagle & Wolf Books and Bindery ,this Saturday. Hopefully, I'll write about how fabulous I'm feeling in my Friday post. For now, I will leave you with my recipe for the ultimate Italian Wedding Feel Better Soup.
The twist? It is entirely vegan and 100% delicious. I got this recipe from the AMAZING Thug Kitchen Cookbook (which is one of my new favorites). Thug Kitchen: Eat Like You Give a F*ck (yup, that is the real name), is full of delicious and irreverent recipes aimed at helping people eat real, healthy food. And it is also full of swearing (you've been warned), which makes for one amusing and unusual cookbook. I laughed throughout the whole thing–and then proceeded to make some of the best food EVER.
I love Thug Kitchen's Wedding Soup even more than the traditional version, and make it almost on a weekly basis because it is so satisfying, healthy, comes together super fast, and is chock full of goodness. Though you may be intimidated by the sound of "White Bean Balls," trust me, they are freakin' delicious. One of the best soup recipes I've tried from one of the best cookbooks I've seen! Seriously, if you like this recipe, you've got to check out the rest of the book!
Thug Kitchen's Wedding Soup with White Bean Balls & Kale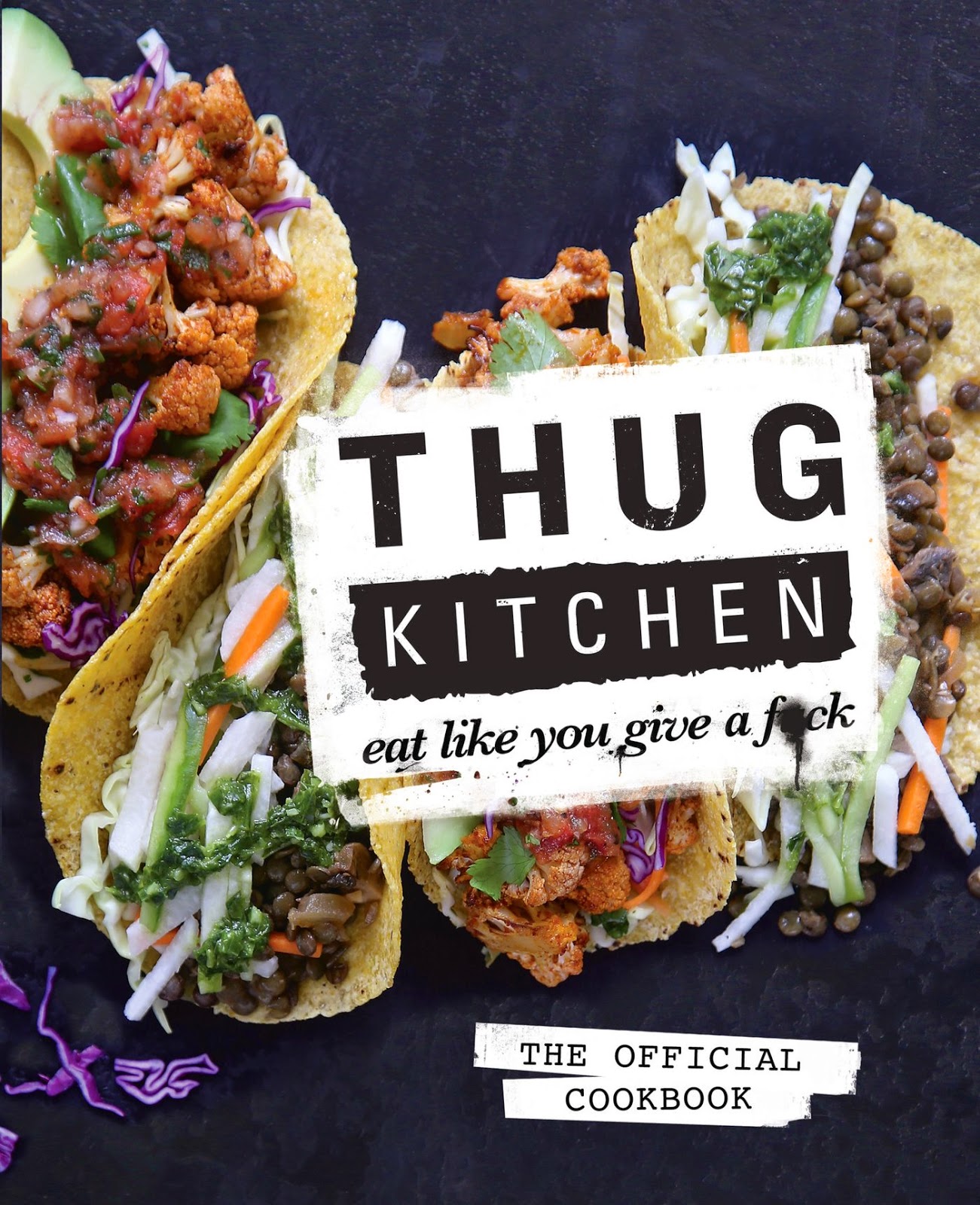 For the White Bean Balls:
Cooking spray
1 large yellow onion, divided (1/4 c. + the rest)
3 c. cooked white beans (2 – 15 oz. cans)
½ c. whole wheat bread crumbs
3 cloves garlic, pressed
¼ c. nutritional yeast or flour
2 T. olive oil
1 T. soy sauce or tamari
2 tsp. all-purpose no-salt seasoning blend (I used Penzey's Tuscan Blend)
1 tsp. each: dried thyme, basil, and oregano
½ tsp. lemon zest (I used a splash of lemon juice instead because that's what I had on hand)
For the Soup:
1 tsp. olive oil
The rest of that chopped onion
2 carrots, chopped
2 ribs celery, chopped
3 cloves garlic, minced
1 c. small dried pasta, such as orzo (in a pinch, I've used barley, coucous—whatever you have)
9 c. vegetable broth
1 T. fresh lemon juice (from ½ the lemon you zested, above)
4 cups chopped kale or other dark leafy greens
¼ tsp. each sea salt & freshly ground pepper
¼ c. chopped fresh basil or parsley
To make the white bean balls: Preheat your oven to 400 degrees F. Coat a baking sheet with cooking spray. In a large mixing bowl, mash the white beans until they form a paste (I used a potato masher for this). Try not to leave too many unmashed beans – really get in there and mash 'em! Stir in the rest of the ingredients: ¼ c. chopped onion, white beans, bread crumbs, garlic, nutritional yeast or flour, olive oil, soy sauce or tamari, dried spices, and lemon zest. You might need to use your hands to mix it all together. Don't act like you're too good to touch bean paste. Form the bean mixture into golf-ball-sized balls using your hands and place them on the prepared baking sheet. Spray the tops with a little more cooking spray. Bake for 30 minutes, pulling the tray out and turning the balls at the 15 minute mark to get both sides nice and goldeny-brown.
 To make the soup: While the bean balls are cooking, heat 1 tsp. olive oil in a large soup pot over medium heat. Add the rest of the chopped onion (minus that ¼ c. you used for the bean balls), carrots, and celery. Cook and stir for 5-7 minutes, or until the onion starts to brown and caramelize. Add the garlic and the pasta and cook for about a minute more. Gently pour in the broth and let it all simmer together for about 10-15 minutes, until the pasta is tender. Fold in the lemon juice, greens, salt & pepper, and fresh basil.
To assemble the dish: Place 3-4 bean balls in the bottom of a single-serving soup bowl. Gently ladle the soup over the bean balls. Enjoy the best Italian Wedding Soup you've ever had!!
Happy Wednesday! I'm going to go take a nap…