To me, 4th of July is about three things: food, fun, and friends! Luckily, I got to enjoy all three this past weekend! We grilled Portobello mushrooms with red, gold, and blue steak fries, walked to Lake Bemidji for a refreshing swim, and met up with friends to watch the lakeside fireworks display. The best part is that our good friend Justin came up to celebrate the holiday and is staying with us the whole week!
As you all should know by now, I LOVE to cook–especially when I have company over. It gives me a chance to show off. To impress our esteemed guest, I'm pulling out all the stops with the BEST STRAWBERRY ICE CREAM RECIPE EVER!
This is no exaggeration. I found this recipe last year and made it more than a dozen times over the summer. Now that strawberries are in season, strawberry ice cream is once again a regular on our dessert menu (and, yes, we have dessert every day).
Technically, I suppose I should say strawberry frozen yogurt. This recipe is made with plain Greek yogurt which gives it the creamy consistency of a custard, but provides generous helpings of calcium and protein. I've used both full fat and nonfat Greek yogurt, and I like both versions. For the extra creaminess, go with full fat.
A few last tips: this recipe was created for an ice cream maker. If you don't have one, go out and buy an ice cream maker (seriously, what are you waiting for). If that isn't an option, fear not! You can still have your strawberry ice cream and eat it, too! Simply make according to the directions, but pour the base into a freezer safe container and cover with plastic wrap. Stir the base once every half-hour to break-up the ice particles until frozen to the desired consistency.
Another option is popsicles! Pour the base into popsicle molds or just paper cups and freeze! Insert the sticks after the base is somewhat solid.
Whatever version you try, I promise you won't be disappointed. This is the perfect summer treat to celebrate the tastes of the season!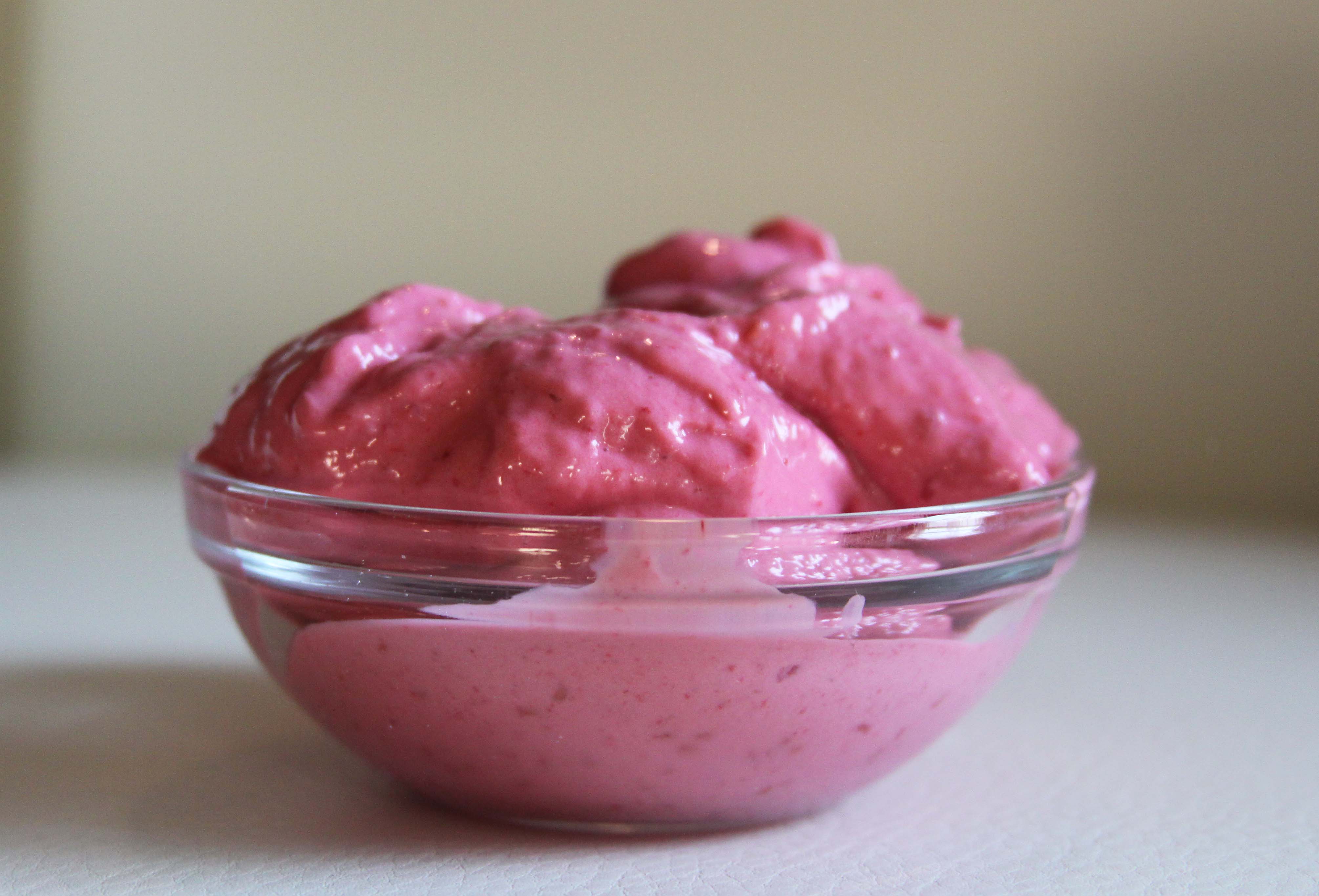 Summertime Strawberry Frozen Yogurt
1 cup Greek Yogurt
2/3 cup Sucanat, or granulated sweetener of choice
1 package fresh organic strawberries, chopped and tops removed
1 tsp lemon juice
Put all ingredients in a blender. Blend! If it seems like your ingredients aren't blending at first, blend in a few short bursts, stopping several times to give the ingredients a mix. Do NOT add extra liquid. The mixture will blend easily as soon as the berries break down and release juices.
When blended to a smooth consistency (leaving as few or many chunks as you want), pour into an ice cream maker. Turn the ice cream maker on and let it work its magic!
DEVOUR!
Serving Suggestions: Red, White, and Blue Yogurt
Top with coconut flakes and fresh blueberries for a healthy patriotic treat!
Happy Monday!
What was your favorite 4th of July food?